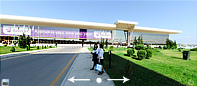 Virtual Tour
About us
Welcome to Baku Expo Centre - a facility which presents a host of new possibilities and exciting opportunities
Opening of the new venue became another manifestation of successful development of Azerbaijan infrastructure. Official inauguration was held on June, 1, 2010 when it hosted the trade exhibition of the region's leading oil and gas industry event, Caspian Oil and Gas.
Baku Expo Centre is a multipurpose events venue designed and constructed in accordance with highest international standards. It is a common ground for industry exhibitions, conferences, product demonstrations, seminars, meetings, corporate events for business and entertainment
The complex is beautifully landscaped on a territory with total area of 10 hectares occupying itself 3 hectares  with total exposition area of over 20,000 m2.  There are three pavilions well equipped to hold exhibitions on the widest range of subjects. In addition facility offers conference halls, meeting rooms, business centre, food courts and other support services.
All conditions for pleasant rest of the guests have been created in the lobby covering the space of 4,000 m2. Large parking space capable of fitting over 500 cars in front of the complex is offered for visitors' convenience as well.
The Expo Centre is located in close proximity to the airport and at just 20 min of drive distance from the city centre.