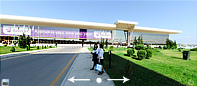 Virtual Tour
Halls
An indoor display area of "Baku Expo Center" includes 3 exhibition halls:
Exhibition halls are divided by noise proof partitions that makes it possible to hold several exhibitions at the same time. In case of necessity noise proof partitions can be easily removed – this allows to change hall sizes to organize more spacious exhibitions.
All exhibition halls are equipped with systems of power, water and pressure air supply, ventilation and air conditioning, as well as with security, safeguard and fire protection systems. Ceiling height is 9 m. Admissible load on the floor is 20 tn / sq.m. There are mounting gates (height – 7 m., width – 4 m.) at each hall for unloading and carrying in of equipment.